MARS HILL, NC - Mar. 31 - The Morgantown High and Capital High lacrosse teams participated in the Border Wars Classic held at Mars Hill University this past weekend. Opponents included Hendersonville, Knoxville Catholic and Asheville Empire. Capital went 2-2 and Morgantown was 3-0 for the weekend.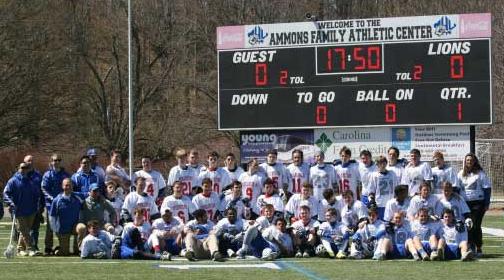 Morgantown and Capital at Mars Hill University
---
IT'S SPRING! . . . FINALLY!!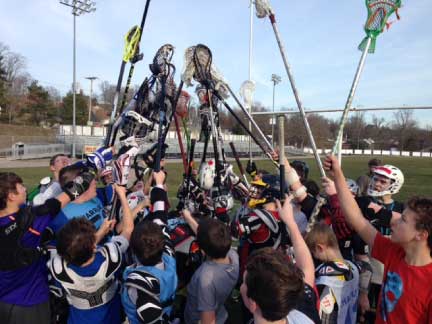 Members if the Charleston Warriors middle school team celebrate
their first outdoor practice of 2015 on Sunday
Brevard, North Carolina - Mar 8 - The West Virginia Wesleyan Women's team improved it's record to 3-0 today with a 22-16 victory over Brevard College - FULL STORY
KEYSER - Mar. 8 - Potomac State College won it's second game in a row with a 20-13 victory today over the College of Southern Maryland from La Plata, Maryland. Former University High standout, Shane Thompson, scored nine goals in the effort. They next host Howard Community College, from Columbia, Maryland on Wednesday at 6 PM.
CHARLESTON & FAIRMONT - Mar. 8 - The Fairmont Senior and George Washington programs have announced the schedules for their preseason boys tourneys next weekend.
BOYS MELTDOWN - FAIRMONT

BOYS SHOWDOWN (REVISED)
---
NEW FEATURE!
LACROSSE PLAYERS ARE MULTI-SPORT ATHLETES!
JORDAN PATRICK - LINSLY SCHOOL - JUNIOR

2 Year OVAC Champions
2 Time All OVAC All Conference Team


2014 Assistant Captain
3 Year WV State Champions
2014 Nick Bedway All State Team

MORE MULTI-SPORT ATHLETES!