BEL AIR, MARYLAND - July 18
- The 304 Elite high school team competed in the Aloha Summer Sizzle Tournament this past weekend in Bel Air, Maryland and made it to the semifinals. Their overall record was 4-2 for the two day event.
304 took the field at 8 AM Saturday and defeated a Chic fil-A sponsored team from Maryland called Upper 90 by one point. Their second game of the day was against Fierce Nation from Virginia. The 304 Elite lost 10-6. They regrouped for Saturday'd third game against New York's Hudson Valley for a 5-3 victory to finish the day at 2-1.
Up early again on Sunday, 304 Elite played a very competitive game vs. Maryland Xtreme (MDX) winning 7-6 to earn a spot in the quarterfinals.
Then came an intense game vs. Team Maryland LC (MD). 304 Elite was down 3-0 when they had a 5 goal run to go ahead by 2. Team MD tied the game with less than one minute left.
Wheeling Park's Isaac Leech had been dominating face offs, so MD put in an LSM to challenge him. The LSM won the face off, but they were unable to score against University's goalie A.J. Adams. Adams cleared to the offense with 20 seconds left. Connor Calmbacher (Wheeling Central) tried a few inside rolls, but was double teamed and out muscled. He was able to get off a couple close shots.
When the ball went out at the end line, Zach Torbett (WP) was closest and brought the ball in. Then, starting from X, he rolled the crease with three guys sliding to him. The timekeeper was counting down aloud when Torbett shot and scored with one second left! 304 won 7-6.
304 Elite advanced to the semi finals against the Virginia Cavaliers, which also had a few West Virginia players. Even their coach was from Charles Town, WV. 304 played a pretty physical but clean game, losing 6-3.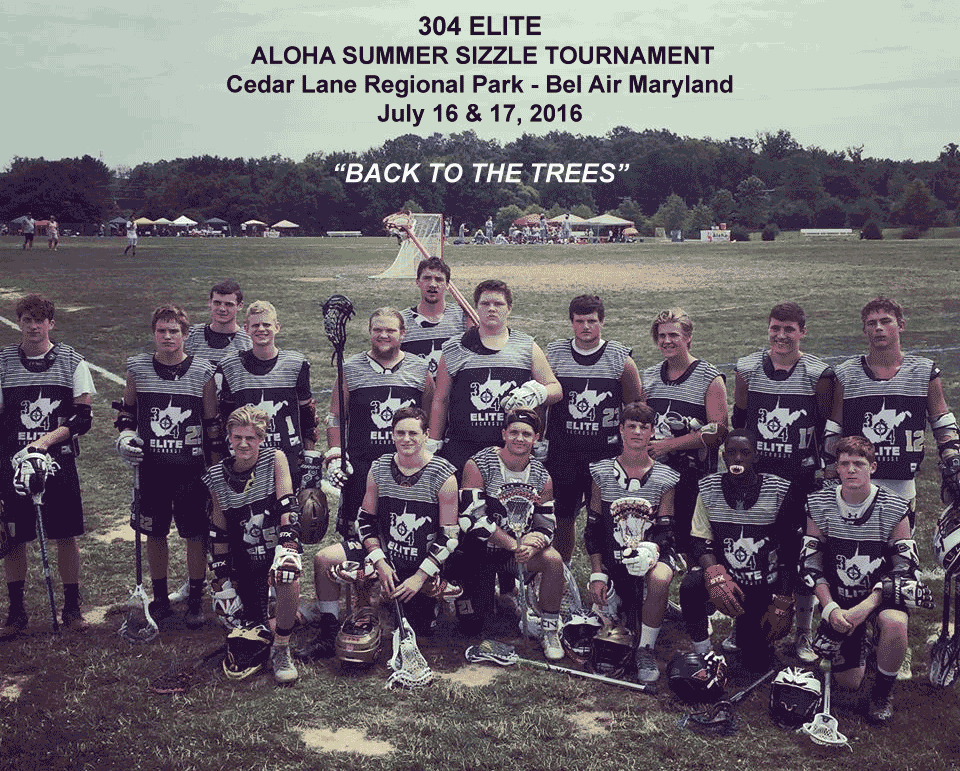 Left to right standing: Quinn Napolillo (University), Derek Dearth (Wheeling Central), Conner Calmbacher (Wheeling Central), Alec Hanshew (University), Cam Kefauver (Wheeling Park), Ryan McCord (University), A.J. Adams (University), Chantz Chambers (Wheeling Central), Michael Karnell (Wheeling Park), Zach Torbett (Wheeling Park), Ryan LaAsmar (Harrison County).
Kneeling: Caleb Karnell (Wheeling Park), Sam Snider (University), Isaac Leech (Wheeling Park), Mathias Turner (University), Kareen Gillespie (Spring Mills), Matther Strange (Harrison County).
Not pictured: Coach Chris Lukas (Alderson Broaddus University)