HUNTINGTON - July 28 - Hello Everyone on LAXinWV!



My name is Mitch Casto and I'm the president for the Marshall University club lacrosse program in Huntington. We were established in March of 2003 and now need a head coach!
We have our own new field and more players join us every year. We want our program to be more competitive than it has ever been, so we need a head coach to implement discipline and structure. We have lined up an offensive coordinator for the season and are currently working on a defensive coordinator at the moment. The head coaching position will be a paid position.

If anyone is interested or if you know anyone who might be interested, please message me on Facebook or email me at casto149@marshall.edu. Also, please "like" our Facebook page "Marshall University Club Lacrosse" to stay updated with our team for games and events.
The Marshall family appreciates all of your support and Go Herd! Lets keep growing this amazing sport in the great state that is West Virginia!

Thank you.
Mitch Casto, Marshall University Lacrosse Club, President

P.S. The Marshall entry on the Directory page is now updated..
---
GATLINBURG, TENNESSEE - July 20 - Last weekend, girls from George Washington, Morgantown and Buckhannon-Upshur participated in the first ever Smoky Mountain Lacrosse Classic at the beautiful, brand new Rocky Top Sports World in Gatlinburg, Tennessee. The girls had never before practiced together as a team, but played beautifully and ended 4-2, and in second place. All are hoping to go back in October for the Fall Mountain Classic!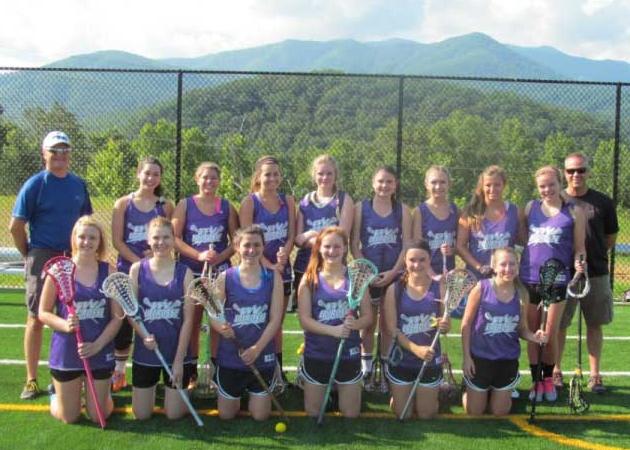 Front row: Megan Kane (MHS), Ashley Lynch (BU), Grace Moore (GW), Haley Burrows (GW),
Caroline Evans (GW), Samantha Pappas (BU)
Back row: Will Moore (Asst. coach, GW), Emmy Lowe (MHS), Savanah Randolph (GW),
Katie Mallory (GW Alum), Rachel Cokeley (GW), Cheyenne Banks (GW), Keke Robey (BU),
Sarah Wilson (GW), Sarah White (GW), Greg Mallory (Head Coach, GW)
---
PICS FROM THE WORLD CHAMPIONSHIP
---
Sunday, September. 14 - 12:00 pm
WV Chapter, US Lacrosse / WVSLA 2015 Organizational Meeting
Fairmont Senior High, Cafeteria
US Lacrosse Meeting, WV College Coaches Presentations,
WV High School & Middle Schools Organizing for the 2015 season
2015 CALENDAR
---
more LAX in WV News SUMMER 2014 - SPRING 2014 - FALL 2013 - ARCHIVES
---
---