LACROSSE in WEST VIRGINIA
2014 NEWS - SPRING
---
---
GIRLS 2014 RULES INTERPRETATION / UMPIRE ASSIGNING MEETING
Saturday, Feb. 1 - 11:00 AM - South Middle School, Morgantown
Potential candidates need to join US Lacrosse,
request a 2014 Girls Lacrosse Rule Book,
take the online course and test themselves BEFORE attending the class.

FAIRMONT - Jan. 3 - Jon Cain, Fairmont Senior's girls coach, has announced this spring's Mountain State Meltdown set for March 15. Boys will play at East West Stadium, while the girls will play at Fairmont State. Games will be 25 minute running time games, with 3 games guaranteed. New this year, the Meltdown will include middle school teams if they are interested.
Contact Coach Cain if more info is needed at USMCBrig63@aol.com
---
CHARLESTON REFEREE TRAINING - 2014 CLASS PHOTO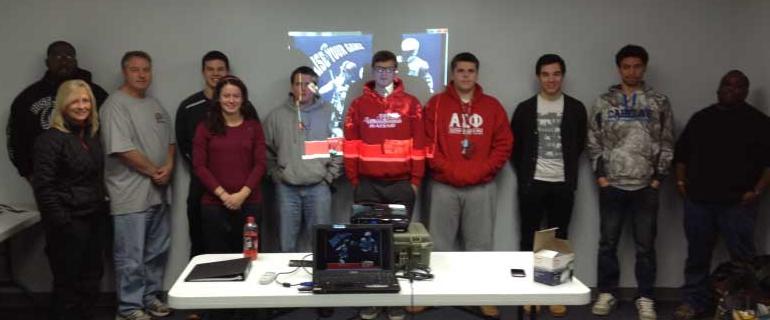 L to R - Kelly Shamblin (veteran official), Quentin Jones, Steve Young, James Hall, Kimberly D'Angelo,
Cody Ryan, Jeff Beyer, Zach Lusk, Tanner Way, Jamison Hayden, Jeff Thompson (ALOA Training Official)
CHARLESTON, Jan. 27 - The Referee Training class at the Charleston YMCA this past weekend seems to have been a success. Several new officials completed the classroom sessions of the training. Once they do their on field training, they can don the zebra stripes for the 2014 season. Their on field sessions will be part of the Scho Down at Schoenbaum, Sunday, March 16 at Schoenbaum Field where they will have the opportunity to shadow experienced referees and get used to "making the call".
There is another set of classroom sessions scheduled for central and northern West Virginia officials starting February 7 at Morgantown High.
---
MARSHALL UNIVERSITY'S NEW SPIRIT WEAR >

HUNTINGTON, Feb. 2 - Marshall University's Lacrosse Club is getting ready for the season. The team has focused on increasing University support and upgrading their presence on campus with new spirit wear that brings back favorite past logos and designs. The team officers reached out to local West Virginia colleges and their Midwest NCLL conferences in planning their schedule, which includes more home games on new fields and away games at Louisville, Eastern and Western Kentucky, Bellarmine, and other colleges. The season looks promising with a good combination of seasoned and new players. The team opens the 2014 season on Feb 15 at Louisville.

CHARLESTON - Feb. 7 - The Charleston YMCA youth programs for boys and girls are getting ready for the 2014 season. Click below for info & registration form.

CHARLESTON YMCA YOUTH LACROSSE FLYER
---
HUNTINGTON - Feb.28 - The Marshall University Lacrosse Club will make school history tomorrow when they host Eastern Kentucky at 1:00 PM in Joan C. Edwards Stadium. The game will be the first non-football game ever played in the stadium. The lacrosse club's field is being upgraded and is scheduled to be completed in May.
---
GIRLS REF TRAINING SITE CHANGE!!!
Holiday Inn Express, 2208 Pleasant Valley Road, Fairmont, 26554, 304-816-5133
FRIDAY - 4:00 - 8:00 PM
GIRLS REFEREES!
The classroom portion of the girls referee training will be March 14,
the Friday night before the Meltdown. 4:00 - 8:00 PM
at the Fairmont Holiday Inn Express - NOTE SITE CHANGE!!
This is MANDATORY for new officials! (... but ALL will benefit!)
---
---
Is it spring yet?

Schoenbaum Field March 16
PARKERSBURG - Mar. 22, 2014 - Christian Huffman (left) and Joe Wright (right), both 2013 graduates of Capital High, met up again March 22 when Wheeling Jesuit played Ohio Valley at Parkersburg High. Huffman is a midfielder for OVU, while Wright plays attack for WJU. Jesuit won the contest 17-3.

OLD TEAMMATES

---

Chase Carraro (center), talks to the Morgantown middle school players and coaches

MORGANTOWN - Mar. 29, 2014 - Chase Carraro a representative of Trilogy Lacrosse, and a Member of the Ohio Machine of the MLL stopped by the Morgantown middle school boys lacrosse team's practice to give the kids some pointers and tell them about playing Division I Men's Lacrosse, and professional lacrosse. Carraro was a two time All American for the University of Denver, graduating in 2013. He played midfield and was a face-off specialist during his four years with the Pioneers.
Carraro spent two hours with the kids running drills and showing the kids new ways to execute fundamentals and stick work. After practice Carraroe took the time to sign about 100 lacrosse balls and posed for countless pictures with the players and coaches. He was very engaging with the kids and answered all of their questions. This was an outstanding event for Morgantown Middle Lacrosse, players, coaches and parents.
---
| | |
| --- | --- |
| NEW YORK, NY - April 8, 2014 Ė GForceTracker Inc. (GFT) announced today its collaboration with Sacred Heart University (SHU) in one of the first and largest concussion studies for menís lacrosse in the U.S. The longitudinal study will be monitoring head impacts and examining different variables such as changes in neurocognitive function, modified IQ scores, depression/anxiety, alcohol/drug dependency and concussion injuries. Read more | GLEN DALE - April 9, 2014 - Today, members of Wheeling Jesuit's lacrosse team helped the players of John Marshall High School, a first year program. The Jesuit players pictured above in the center are (left to right) David Lopez, Tim Langhorne and Zach Herron |
---
BOYS DIVISION 1 SEMIFINALS
#4 MORGANTOWN - 1 at #1 UNIVERSITY - 14
#3 WHEELING PARK - 5 vs #2 WHEELING CENTRAL - 13
~
BOYS DIVISION 2 SEMIFINALS
#3 BUCKHANNON-UPSHUR - 0 at #2 BERKELEY COUNTY - 1 F
#4 HUNTINGTON - 7 at #1 CAPITAL - 6
~
GIRLS SEMIFINALS
#3 FAIRMONT SENIOR - 6 at #2 UNIVERSITY - 7
#4 MORGANTOWN - 11 at #1 GEORGE WASHINGTON - 14


---

GIRLS CHAMPIONSHIP
UNIVERSITY - 9 vs. GEORGE WASHINGTON - 5
~
BOYS DIVISION 1 CHAMPIONSHIP
UNIVERSITY - 14 vs. WHEELING CENTRAL - 6
~
BOYS DIVISION 2 CHAMPIONSHIP
BERKELEY COUNTY - 9 vs. HUNTINGTON - 7

AT THE 2014 NCAA CHAMPIONSHIPS

Charleston's Jerett & Jack Gaeger meet the Thompsons
MORE PICS AT THE CHAMPIONSHIPS

---
---
---
To Top of page - Back to LaxInWV Front Page - OLD NEWS ARCHIVES
---