Country Roads PT Helps Raise $1,300 for Cancer Awareness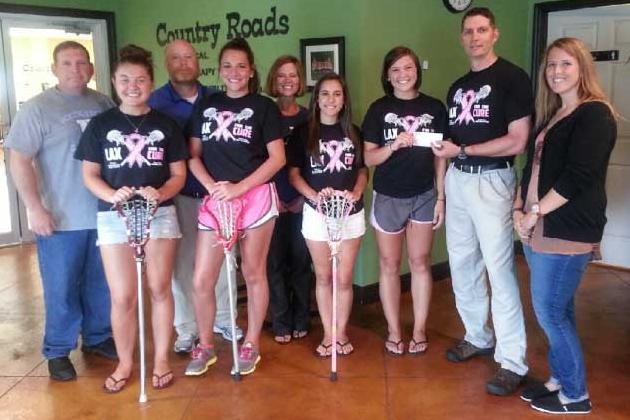 From Left: Coach Jon Cain, Sarah Topardo, Derek Falkenstein, Breanna Pacoe, Monica Falkenstein,
Adrianna Constable, Maddie Stevenski, Mike Barkley, Ryann Moore.
FAIRMONT - The Fairmont community helped the Fairmont Senior Girls Lacrosse Team raise $1,300 this year for cancer awareness. Country Roads Physical Therapy contributed to the great cause too by making a donation, as well as purchasing LAX FOR THE CURE t-shirts for staff members at their East and West Fairmont Clinics.
Senior head coach Jon Cain and several members of The Polar Bears visited the West Fairmont Clinic this week to thank Falkenstein and his staff for their contributions. "We were very happy to help Coach Cain and his team raise money and awareness for cancer," said Derek Falkenstein, DPT and co-owner of Country Roads Physical Therapy. "We look forward to being involved again next year."
The Polar Bears are committed to making a difference both on and off the field. For more information on how to get involved next year during the Third Annual Lacrosse Against Cancer game, contact Coach Cain at USMCBrig63@aol.com.
All of the certified licensed physical therapists at Country Roads Physical Therapy are committed to providing the highest quality of care, with a hometown friendly service. Country Roads has four locations: East Fairmont, West Fairmont, Buckhannon, and Wheeling. For more information, please visit www.CountryRoadsPT.com.